Flower Seeds Catalogue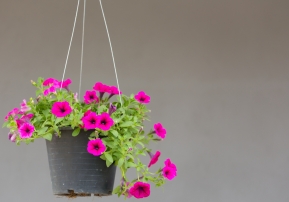 With our wide range of flower seeds for the professional grower we are able to offer varieties suitable for the different demands and marketing chains. Well matched for the markets in North- and South Europe we are listing different varieties suitable for the individual requirements.
Out of the continuously selection- and development activities of international breeding companies we have been able to choose an exciting assortment that will help you to stay competitive on your market. Our assortment of flower seeds is being updated permanently with new and improved varieties in order to assist you to respond to the permanent demand for new ideas and products, as well as to improve the profitability of your production.
You can very easily order flower seeds, and you can explore the great variety of our full range on our home page. You can obtain further information at the following address: orders@menagri.com
| | | | |
| --- | --- | --- | --- |
| ABUTILON | ACAENA | ACANTHUS | ACHILLEA |
| ACROCLINIUM | AGAPANTHUS | AGASTACHE | AGERATUM |
| AGROSTIS | ALCEA | ALCHEMILLA | ALTERNANTHERA |
| ALYSSUM ANNUAL | ALYSSUM PERENNIAL | AMARANTHUS | AMMI |
| ANACYCLUS | ANCHUSA | ANEMONE | ANGELONIA |
| ANTHEMIS | ANTIRRHINUM | AQUILEGIA | ARABIS |
| ARALIA | ARENARIA | ARMERIA | ARUNCUS |
| ASARINA | ASCLEPIAS | ASPARAGUS | ASPHODELINE |
| ASTER | ASTILBE | ATRIPLEX | AUBRIETA |
| AVENA | | | |
| | | | |
| BACOPA | BAPTISIA | BARBAREA | BASILICUM |
| BEGONIA HYBRIDA | BEGONIA SEMPERFLORENS | BEGONIA TUBERHYBRIDA | BEGONIA X ELATIOR |
| BELLIS PERENNIS | BERGENIA | BRACHYCOME | BRASSICA |
| BRIZA | BROMUS | BROWALLIA | BUPHTHALMUM |
| BUPLEURUM | | | |
| | | | |
| CALCEOLARIA ANNUAL | CALCEOLARIA BIENNIAL | CALENDULA | CALLISTEPHUS |
| CAMPANULA | CANNA | CAPSICUM | CARDIOSPERMUM |
| CAREX | CARTHAMUS | CATANANCHE | CATHARANTHUS |
| CELERY | CELOSIA CRISTATA | CELOSIA PLUMOSA | CENTAUREA |
| CENTAUREA CANDIDISSIMA | CENTAUREA PERENNIAL | CENTRANTHUS | CERASTIUM |
| CERINTHE | CHEIRANTHUS | CHRYSANTHEMUM ANNUAL | CHRYSANTHEMUM PERENNIAL |
| CINERARIA | CLEOME | COBAEA | COLEUS |
| COREOPSIS PERENNIAL | COREOPSIS TINCTORIA | CORTADERIA | CORYNEPHORUS |
| COSMOS | CRASPEDIA | CRUCIANELLA | CUPHEA |
| CYCLAMEN ANNUAL | CYCLAMEN PERENNIAL | CYNARA CARDUNCULUS | CYNARA SCOLYMUS |
| CYPERUS | | | |
| | | | |
| DAHLIA | DATURA | DELPHINIUM ANNUAL | DELPHINIUM PERENNIAL |
| DESCHAMPSIA | DIANTHUS BARBATUS | DIANTHUS CARYOPHYLLUS ANNUAL | DIANTHUS CHINENSIS |
| DIANTHUS HYBRIDUS | DIANTHUS PERENNIAL | DIASCIA | DICENTRA |
| DICHONDRA | DIGITALIS | DOLICHOS | DORONICUM |
| DOROTHEANTHUS | DRACAENA | | |
| | | | |
| ECHEVERIA | ECHINACEA | ECHINOPS | ELEUSINE |
| EMILIA | ERAGROSTIS | ERIGERON AURIANTIACUS | ERIGERON KARVINSKIANUS |
| ERYNGIUM | ERYSIMUM | ESCHSCHOLZIA | EUCALYPTUS |
| EUPHORBIA ANNUAL | EUPHORBIA PERENNIAL | EXACUM | |
| | | | |
| FESTUCA | FLOWER MEADOWS | FOENICULUM | FRAGARIA |
| FREESIA | | | |
| | | | |
| GAILLARDIA ANNUAL | GAILLARDIA PERENNIAL | GAURA | GAZANIA RIGENS |
| GERANIUM | GERBERA | GEUM | GIROFLEE |
| GODETIA | GOMPHRENA | GYPSOPHILA ANNUAL | GYPSOPHILA PERENNIAL |
| | | | |
| HELENIUM ANNUAL | HELENIUM PERENNIAL | HELIANTHUS | HELICHRYSUM |
| HELICRYSUM BRACTEATUM | HELIOPSIS | HELIOTROPIUM | HELIPTERUM |
| HESPERIS | HEUCHERA | HIBISCUS | HORDEUM |
| HUMULUS | HYPERICUM | HYPOESTES | |
| | | | |
| IBERIS | IMPATIENS AURICOMA | IMPATIENS BALSAMINA | IMPATIENS NEW GUINEA |
| IMPATIENS WALLERIANA | INCARVILLEA ANNUAL | INCARVILLEA PERENNIAL | IPOMOEA |
| IRESINE | ISOLEPSIS | ISOTOMA | |
| | | | |
| JUNCUS | | | |
| | | | |
| KNAUTIA | KNIPHOFIA | KOCHIA | KOELERIA |
| | | | |
| LAGURUS | LATHYRUS LATIFOLIUS | LATHYRUS ODORATUS | LAVANDULA |
| LAVATERA | LEONTOPODIUM | LEWISIA | LIATRIS |
| LIGULARIA | LIMONIUM | LINARIA | LINUM ANNUAL |
| LINUM PERENNIAL | LOBELIA ANNUAL | LOBELIA PERENNIAL | LOTUS |
| LUNARIA | LUPINUS | LUZULA | LYCHNIS |
| | | | |
| MALVA | MATTHIOLA | MECONOPSIS | MELAMPODIUM |
| MIMOSA | MIMULUS X HYBRIDUS | MINA LOBATA | MIRABILIS |
| MISCANTHUS | MOLUCCELLA | MONARDA DIDYMA | MUSA |
| MYOSOTIS | | | |
| | | | |
| NEMESIA | NEPETA | NICOTIANA | NIEREMBERGIA |
| NIGELLA | | | |
| | | | |
| OENOTHERA | ORYZA | OSTEOSPERMUM | |
| | | | |
| PANICUM | PAPAVER ANNUAL | PAPAVER BIENNIAL OR PERENNIAL | PARDANCANDA |
| PASSIFLORA | PELARGONIUM PELTATUM | PELARGONIUM ZONALE | PENNISETUM |
| PENSTEMON ANNUAL | PENSTEMON PERENNIAL | PENTAS | PEPPER |
| PERILLA | PETUNIA PENDULA | PETUNIA X HYBRIDA | PHALARIS |
| PHASEOLUS | PHLOX | PHYSALIS | PHYSOSTEGIA |
| PLATYCODON | PLECTRANTHUS | PLUMBAGO | POLEMONIUM |
| POLYGONUM | POLYPOGON | PORTULACA | POTENTILLA |
| PRIMULA ACAULIS | PRIMULA DENTICULATA | PRIMULA OBCONICA | PRIMULA X ELATIOR |
| PRUNELLA | PTILOTUS | PUMPKIN | PUMPKIN ORNAMENTAL GOURDS/HALLOWEEN |
| PYRETHRUM | | | |
| | | | |
| RANUNCULUS | RHEUM | RHODOCHITON | RHYNCHELYTRUM |
| RICINUS | RUDBECKIA ANNUAL | RUDBECKIA PERENNIAL | RUMEX |
| | | | |
| SAGINA | SALVIA | SALVIA COCCINEA | SALVIA FARINACEA |
| SALVIA HORMIMUM | SALVIA SPLENDENS | SANTOLINA | SANVITALIA |
| SAPONARIA | SAPONARIA | SAXIFRAGA | SCABIOSA ANNUAL |
| SCABIOSA PERENNIAL | SCHIZANTHUS | SEDUM ANNUAL | SEDUM PERENNIAL |
| SEMPERVIVUM | SENECIO | SETARIA | SIDALCEA |
| SILENE BIENNIAL | SILENE PERENNIAL | SISYRINCHIUM | SOLANUM |
| SOLIDAGO | SORGHUM | SPILANTHES | STIPA |
| SWISS CHARD | | | |
| | | | |
| TAGETES ERECTA | TAGETES PATULA | TALINUM | TANACETUM |
| TANACETUM COCCINEUM | TECOMA | THALICTRUM | THUNBERGIA |
| THYMOPHYLLA | TITHONIA | TOMATO (ORNAMENTAL) | TORENIA |
| TRACHELIUM | TRADESCANTIA | TROPAEOLUM | |
| | | | |
| UNIOLA | | | |
| | | | |
| VERBASCUM | VERBENA BONARIENSIS | VERBENA CANADENSIS | VERBENA HYBRIDA |
| VERBENA RIGIDA | VERONICA | VIOLA CORNUTA | VIOLA ODORATA |
| VIOLA X WITTROCKIANA | | | |
| | | | |
| ZEA MAYS | ZINNIA | | |