Black and Strong Hum-Elit 18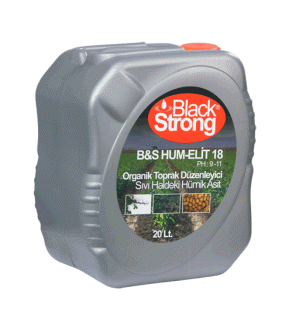 Composition:
ORGANIC MATTER: 14%
HUMIC + FULVIC ACIDS: 18%
K2O: 3%
AMINO ACID: 1%
LEONARDITE BASED

B & S Hum-Elit 18 is an organic soil regulator with its high humic & fulvic acid content which got produced with the highest quality raw. It is also suitable for leaf applications in order to increase the effectiveness of fertilizer applications. It can be applied for any kind of soil by drip and sprinkler watering. It is used from the leaf with spraying device.
- Makes phosphorus, calcium and trace elements which are held by the clay minerals can be used by plants by increasing ion exchange in soil.
- Increases product quality and efficiency by promoting the rooting in plants.
- Increases the profitableness of fertilizers used in the base and top. Prevents fertilizer consumption.
- Increases the cation capacity of the soil.
- Helps to improve saline soil and marl.
- Prevents the damage of salt to root systems.
- Increases water holding capacity of sandy soils.
- Increases the rate of viability in the soil. Allows the growth of microorganisms.
- Chelates as plant nutrients can be taken easily by plant roots.
- Prevents chlorisis (yellowing) by releasing the iron ions.
- Provides more comfortable air by improving the soil. Allows natural reproduction by stengthening of the plant and sprout more quickly.
- Increases resistance of plants to disease, pests, drought and frost with enhanced root system.
- It improves the yield and quality of fruit with the help of its potassium content.
- When the seed is thrown into the soil it improves plant roots and seedling quickly.